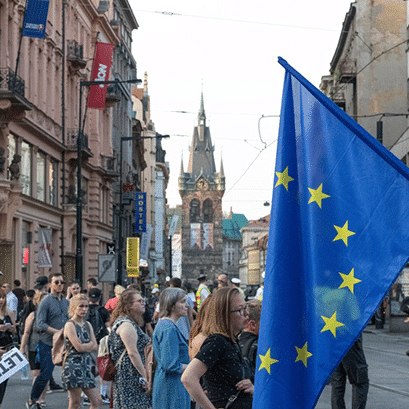 Demystifying the European Commission: Regular People are Influential (Resources + Guide)
It's not just lobbyists and legislators that make the rules regarding the sustainable future of the EU. Regular people have a say, too. As citizens, we often see European Union institutions as hard to navigate. They use language we don't understand, they're too slow to act, and they are too disconnected with the concerns of citizens.
There's a common sentiment that the European Union doesn't drive change. Especially not when that change is toward a sustainable future. But that's not true.
The main reason citizens feel helpless in European lawmaking is that we don't know where to find the relevant information. It's overwhelming and confusing.
We also don't know who all the stakeholders are in the process. Who can provide information to the European authorities as they pass new laws?
Want someone with deep experience and connections in the EU to help guide your sustainability strategy? Get in touch!
The European Union welcomes your voice more than you think
The truth is that:
Your voice counts
That's not just us being nice—the EU institutions care about and will act on your voice, too. Policymakers are eager to hear from citizens.
With the right information, you can contribute to policymaking, even if you aren't an "official"
In this article, we want you to leave feeling ready to make your voice heard in Europe. We'll explain:
How the public can contribute in EU consultations,
How to find information about current legislation discussions,
How to follow policymaking sessions live,
What accounts to follow,
How to educate yourself about opportunities to shape legislation
Ready to contribute to EU law? Let's dive in.
Public consultations invite citizens to contribute
The EU authorities consult all stakeholders through public consultations.
A stakeholder is any individual or organisation that has an interest and can be affected by another organisation. Meaning, as an EU citizen, you are directly affected by decisions the EU makes. You are a stakeholder.
Individual stakeholders can participate from when the EU Commission begins to design a new piece of legislation.
Submit suggestions to the Commission on existing legislation
As a citizen, you can submit suggestions for legislation that already exists. The purpose is to simplify, reduce burden of existing EU laws or help them digitalise.
You can send them through the Fit for Future Platform, either anonymously or with your personal information attached.
They'll go through it and if it fits, they'll choose to include your opinion in discussions.
According to the website:
The Platform does NOT consider suggestions related to:
draft EU laws currently being developed/negotiated by the legislators
EU laws adopted less than two years ago
a planned or on-going consultation with social partners
issues of sole national competence
It works on an annual programme, so anything you submit before April 30th will be for that year's discussion. Anything submitted after that date will be for the next year's discussion.
Give feedback on upcoming legislation
If you're more interested in what's coming than what is, the EU also invites citizens to give feedback on policies currently in development. There are a few phases that policies go through before adoption:
In preparation
Roadmap
Public consultation
Draft Act
Commission adoption
The public can chime in at every phase. You can visit the EU's public consultations page to see what's happening now. The website is relatively easy to follow—you can see what stage the act is in, what the topic is, what type of act it is, and until when you can submit your feedback as a citizen.
There are some rules you need to follow when giving feedback, but it's mainly common sense—don't be abusive, don't be off-topic or spammy. In any case, we recommend you go through the rules before submitting your feedback.
You can download all the documents related to the policy to read through before giving your feedback. You'll need to register with the EU in order to contribute.
Example of an online public consultation
The European Climate Pact is a wonderful example of a public consultation in action. With a goal to reach a climate-neutral society under the European Green Deal, the Commission launched this pact to give everyone a voice.
Meant to encourage grassroot activities and community discussions, the public consultation received over 3,500 replies, all of which will be used to shape the final design of the pact.
They held events like webinars for organisations interested in the pact, which were free to attend and included Q&A sections. It even had participants separate into breakout rooms to discuss how the Pact looked like for them.
There is no shortage of options for citizen participation.
Educate yourself about EU policymaking
Now you see there are options for you to exercise your voice. But before you do that, you need to be educated on the issues. It may seem overwhelming from the outside, but learning about the EU legislation process isn't as scary as it may seem.
Stay up-to-date
The first thing you can do is start following the European Commission's press corner. That's where they publish the most recent press releases and Europe-wide decisions made. Reading this on a regular basis will help you understand trends and who the key decision-makers are.
Take a look inside
The European Union also has a transparency register available online. In its aim to encourage citizen participation, it openly lists all lobbyists, all meetings, logs of who is engaging with EU authorities and more. The register also lists the consultations stakeholders participated in and which commissioners they met with. Yes, it's all out in the open for you to read!
Follow EU Parliamentary Sessions live
The EU Parliament even has a platform where you can watch the EU Parliamentary Sessions live. They also host the clips of past sessions there in case you missed one. It'll be as if you're in Brussels yourself!
Learn about current legislation
A lot of things are happening in the EU, so even if you watch some live sessions and read the press corner, it may still feel overwhelming. The EU's legislative train schedule makes it easy to see what's in discussion right now. We recommend focusing on what's most important to you and trying to learn more about that topic than staying on top of everything happening in Europe.
Accounts to follow to learn more
There are plenty of influencers in the EU policymaking space. We recommend following these accounts to stay on top of what's happening in Europe:
European Parliament (@Europarl_EN) – Sharing the latest information from the EU Parliament. The EU Parliament web team shares easy-to-access info, about Europe and new initiatives. A bigger focus on sustainability and environment.
European Commission (@EU_Commission) – More news and information from the European Commission itself. Focus on security.
Council of Europe (@coe) – News from the Council of Europe, with a focus on diversity.
Ursula von der Leyen (@vonderleyen) – President of the EU Commission.
Pascal Canfin (@pcanfin) – Chair of the Environment committee of the European Parliament.
Charles Michel (@eucopresident) – President of the European Council.
Frans Timmermans (@TimmermansEU) – Executive Vice-President for the European Green Deal
Virginijus Sinkevičius (@VSinkevicius) – Commissioner for Environment, Oceans and Fisheries
Guy Verhofstadt (@guyverhofstadt) – Guy Verhofstadt is chief Brexit representative for the European parliament, a former prime minister of Belgium and leader of the Group of the Alliance of Liberals and Democrats for Europe
EU2020DE (@EU2020DE) – German Presidency of the EU Council from 1 July to 31 December 2020.
Some more helpful articles from the Ohana blog:
Our aim for our blog is to offer the most up to date and helpful advice on all topics related to sustainable development policy. You might find these articles useful:
There's plenty to learn, and we hope the first thing you learned today is that your voice matters.
Want someone with deep experience and connections in the EU to help guide your sustainability strategy? Get in touch!
Join our newsletter to keep up to date with the latest news and information coming out of the EU.