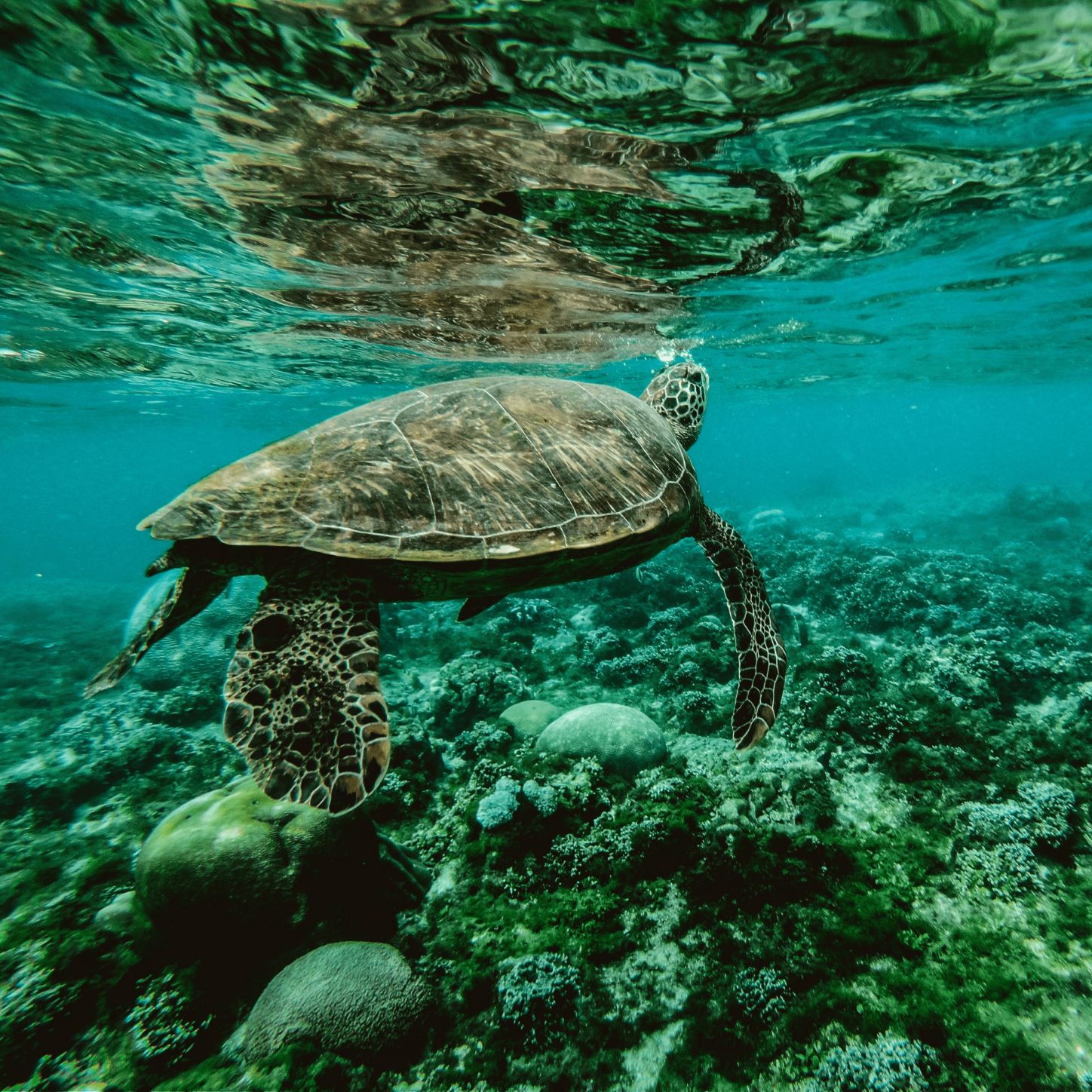 How businesses can contribute to biodiversity goals
By now, it's clear that all companies operating in the EU need a sustainability strategy. Sustainable business practices are no longer a nice-to-have: they're a necessity for any organization that wants to slow climate change and comply with upcoming EU legislation (learn about forthcoming changes to the textile strategy policy). 
But do you have a  strategy on halting biodiversity loss and restoring nature? Maybe not – but you should. Until now, the primary focus for businesses has been on meeting goals for circular economy and carbon neutrality. But it's impossible to achieve these goals without preserving nature and protecting ecosystems of plant, animal, and marine life –As we've outlined in a previous post, it's impossible to support climate action without supporting biodiversity. Ohana is proud to assist companies who want to improve their impact on nature and wildlife. 
Biodiversity is emerging as a key new focus for the EU and industry alike. Previous EU policy on nature has been vague, voluntary, and largely ineffective. But now, the EU Biodiversity strategy for 2030 will force countries to take action to reverse nature loss. By 2030, the EU aims to legally protect at least 30% of land and sea and increase conservation of protected areas like old-growth forests.
Want someone with deep experience and connections in the EU to help guide your sustainability strategy? Get in touch!
Right now, the EU's goals are mainly aimed at EU Member States , rather than at companies – though it's likely that at some stage, businesses will have to comply with biodiversity protection requirements. But that doesn't mean that companies shouldn't get involved: quite the opposite. It's vital that organizations work to protect nature and achieve biodiversity goals. The companies who prioritize this now will be seen as forward-thinking leaders who are truly committed to environmental practices. They'll be better able to meet their sustainability goals – circularity, biodiversity and climate change are interconnected challenges and must be tackled together. And they'll benefit from a stable, resource-rich ecosystem, which has a positive impact on business as well as society. 
This article takes you through:
     

Why biodiversity is important for business. 

     

What the EU is planning.

     

How to engage with biodiversity initiatives like Business for Nature and lead industry change. 
Biodiversity loss impacts business
Biodiverse natural environments are necessary for healthy, safe societies and over half of the global GDP depends on natural capital and its services.  But nature is disappearing. We've reached the point where three-quarters of the planet's surface has been altered, leaving little room for wilderness.Global wildlife populations have fallen by 60% in the last 40 years alone as a result of human activities, including overexploitation of natural resources, climate change, pollution, and changes in land and sea use. 
Clearly, business operations greatly impact biodiversity loss, ecosystem degradation and resource depletion. Producing and processing raw materials, building factories and warehouses, packaging, and shipping products all produce lasting damages  in the natural ecosystems. 
But biodiversity also affects business, far more than we are often aware of. Companies rely on resources like natural fibres and construction materials as well as adequate water and waste services. The World Economic Forum says that natural disasters and other environmental risks caused by the destruction of ecosystems are the single biggest threat to our global economy. For stable supply chains and long-term economic viability – as well as better relationships with the customers and societies they serve – companies need to take action to protect nature and biodiversity. 
The EU Biodiversity Strategy for 2030
Protecting nature
The EU's new strategy is an ambitious plan for safeguarding biodiverse ecosystems and reversing the damage already done. It will most directly apply to EU member states, but the strategy will also have global repercussions as it represents the EU's contribution to international biodiversity negotiations. 
In the strategy, the EU proposes  its commitment to protecting nature via several key milestones to be reached by 2030. Its protection goals for 2030 include targets to: 
     

Preserve at least 30% of land and sea in Europe.

     

Provide full legal protections for primary and old-growth forests.

     

Reduce the use of pesticides and other polluting chemicals by 50%.
These targets will all be proposed in legislation at the end of 2021. 
Restoring biodiversity 
But as the EU Commission puts it, "protecting the nature we have will not be enough to bring nature back into our lives". The delivery of an EU Nature Restoration Plan is a key part of the Biodiversity Strategy. With the Nature Restoration Plan, the EU hopes to reverse biodiversity loss by taking steps to improve the health of damaged natural areas. By 2030, member states will be asked to: 
     

Ensure at least 30% of debilitated species and habitats have shown improvements.

     

Ensure no deterioration in conservation activity of protected habitats and species.

     

Increase organic farming and agricultural biodiversity. 
EU-wide plans include restoring at least 25,000km of European rivers to a free-flowing state, planting 3 billion trees, and increasing the health and presence of bees and other pollinators – all by 2030. 
Big changes are coming, though the Biodiversity Strategy is mainly targeted at countries, rather than companies. Yet the EU recognizes the crucial role business has to play in meeting biodiversity targets. The Commission has set up an EU Business @ Biodiversity Platform, which plans to get businesses involved by creating dialogue on key biodiversity policies and plans. Business @ Biodiversity will work with industry partners to help incorporate nature protections into their business practices. 
Business for Nature
Rather than waiting for EU policy, companies can also get involved with platforms  like Business for Nature, which unites organizations that want to protect nature and promote biodiversity. Over 700 companies worldwide, including textile industry leaders like H&M Group and VF Corporation, have come together under the banner of Business for Nature to campaign for international policies to reverse nature loss. They have developed five main policy recommendations, calling on governments and global organizations to: 
   

Adopt targets to reverse nature loss.

   

Align, integrate and enforce policies for nature, people, and climate.

   

Value and embed nature in decision-making and disclosure.

   

Reform subsidies and incentive mechanisms.

   

Join forces for nature and empower everyone to act.
These principles urge organizations to consider the impact business practices have on nature at every stage of the value chain, to most effectively minimize and reverse negative impacts. Last year in September 2020, Business for Nature and 560 companies called on governments to act to reverse nature loss. With these recommendations and actions, Business for Nature hopes to influence key institutions  like the EU and UN, encouraging them to tackle biodiversity issues through collaboration and legislation "Businesses cannot address this global crisis on their own", they say: urgent policy is needed. 
How businesses can help biodiversity restoration
But as well as pushing for policy change, there are many internal steps companies can take to become nature-positive. 
Business for Nature recommends a four-step process: 
   

Assess
Companies should start by assessing their impact on nature across the entire value chain, from extraction of raw materials right through to post-consumption waste. This allows you to identify which changes will be most effective.
   

Commit
Making a meaningful, public commitment to biodiversity provides motivation to follow through. It's also important that companies set clear, measurable goals for how they will reduce their negative impacts and how they will contribute to restoring nature. These targets should incorporate guidance from the EU and other organizations as well as the Science-Based Targets for Nature that have been created by Business for Nature. 
   

Act
Where possible, businesses should take a zero-harm approach, avoiding activities that endanger ecosystems. If this can't be done, they should minimize their impact and actively work to restore natural environments that have been harmed, by investing in nature-based solutions and "giving back more than you take".  
   

Advocate 
It's crucial that companies use their voice to call for policy change, as well as signing petitions and pledges that show their commitment to biodiversity. Companies should also engage with policy negotiations as much as possible – getting involved with the current consultation on the EU Biodiversity Strategy is a great place to start. 
Companies and partners involved in Business for Nature have made – and lived up to – several key commitments for nature-positive industry. Several businesses have removed deforestation risks  from their supply chain, and others have set a climate-smart agriculture agenda. Other key actions include efforts to improve water security and decrease their use of harmful plastics in packaging and shipping. 
Within the textile industry, various companies have also come together to form of the Fashion Pact, a worldwide collective of fashion and textile organizations who have committed to three major environmental goals: ending global warming, restoring biodiversity, and protecting the oceans. 
Taking action to prioritize nature
The EU Biodiversity Strategy for 2030 will be an important step in making Europe a nature-positive space. Companies should join the Business @ Biodiversity or Business for Nature initiative to engage with policy decisions. 
Sustainability and biodiversity go hand-in-hand. It's impossible to address climate change without simultaneously addressing the damage we have done to biodiverse ecosystems. Though current biodiversity policy proposals will set restoration targets for Member States, rather than individual organizations, we need forward-thinking companies to prioritize nature-friendly business practices now. By following guidance from initiatives like Business for Nature, companies can establish themselves as environmental leaders committed to protecting natural landscapes and the species that populate them.   
Ohana is a public affairs consultancy that helps companies to develop and implement effective sustainability strategies and to engage with climate-related public affairs. We offer support to companies who want to understand their impacts on biodiversity and to develop strategies for protecting and restoring the natural landscapes they engage with. We also ensure the companies we work with are represented and listened to in key EU policy decisions – including the EU Biodiversity Strategy for 2030. Get in touch to learn more!
Join our newsletter to keep up to date with the latest news and information coming out of the EU.